School Meals
A choice of well balanced, tasty and nutritious meals are prepared daily in the school's own kitchen. All meals are served in our exciting restaurant, The Curve. Our meals conform to the government's nutritional standards.
Parents are able to log on and choose meals for their children and pay for them via Dolce's School Grid system. When your child starts at Martins Wood you will be sent a link to create your account.
Meals are provided free of charge to all children up to the age of seven (the end of Year 2). Some families will qualify for free school meals for older children. Applications for free school meals can be made online here. Our office staff are always happy to help with applications or with any queries you may have.
To order a meal or make a payment, log into your School Grid account by clicking on the logo below: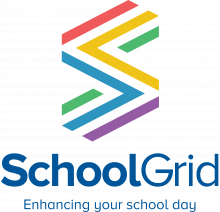 Free Fruit Scheme and Snacks
Children are provided with a free fruit or vegetable snack up to the end of Y2 as part of a government scheme.
At present the government's free fruit and vegetable scheme does not include pupils in Y3 to Y6. Children in these year groups may bring a fruit or vegetable snack to eat during morning break.